Hi! I am Heather! I blog over at
Teaching Through Turbulence
. I am very excited about this collaborative blog and having so many great ideas and resources from a lot of amazing bloggers right here in one place!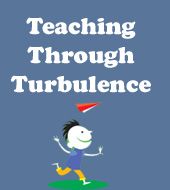 Blogging Experience:
I started my blogging experience at the beginning of June last year and I have loved every minute of it! You see.. I had a problem... I was a teaching blog
stalker
ummm... constant follower. I always had my IPAD in my hands or my computer in my lap reading lots of amazing blogs. I just didn't see many blogs about behavior.. and my husband was always telling me to find a hobby (LOL!).. so I decided I would try this blogging thing and try to help others with behaviors, classroom management, and differentiation in the classroom.
Since taking off on this experience, I have started a
Facebook Fan Page
, Twitter Account (@teachthrough), and a TPT Store. The TPT Store will hopefully be growing this summer.
That is my blogging experiences in a nutshell, so here is professional and then personal.
Professional:
I am currently a Special Education Teacher for students in Kindergarten through 6th Grade with Emotional Disabilities and other students with behaviors in Indianapolis, IN. I have also had experience as a Developmental Preschool teacher and a Kindergarten Teacher, both with many special needs students. Through my practicum experiences and student teaching at Indiana State University and my jobs, I have experience with all grade levels preschool through high school and many eligibility areas.
Personal:
This is me:
This is me and my wonderful husband at our wedding in 2010:
And our 2 wonderful dogs, Mia and Kodak:
I am looking forward to getting to know all of you and learning from each other!